Cleaning a driveway is often an arduous task. If the stain is old or caked in, elbow grease and soapy water won't remove the problem. This is when you must turn to more robust solutions, and alongside professional cleaning equipment, there is a wide range of chemical cleaners suitable for use on driveways.
Not everyone wants to use chemicals on their driveway, but if you are, you should know the most effective chemicals for your driveway and stain. You should also know how to use these chemicals safely.
What Are The Most Common Driveway Cleaning Chemicals?
Whether you have tarmac, block paving, concrete or natural stone, the following chemicals are suitable solutions for cleaning driveway surfaces and concrete slabs:
Pressure Washing Detergents: These specialized cleaning solutions are designed for use with pressure washers and can help remove dirt, stains, and other contaminants from block paving.
Concrete Cleaners: These products are specifically formulated to remove dirt from concrete surfaces, including block paving. Some examples include muriatic acid and trisodium phosphate (TSP).
Oxygen Bleach: This type of bleach is a safe and effective alternative to traditional chlorine bleach, and you can use it to remove stains and brighten block paving.
Paver Cleaner: This specialised cleaning product is designed for block paving. It can help remove dirt and other contaminants and may also help restore the original colour of the paving blocks. Household bleach is also a suitable solution for most types of block paving.
So, even though there is a broad range of best driveway cleaners, the most appropriate choice depends on the surface you clean.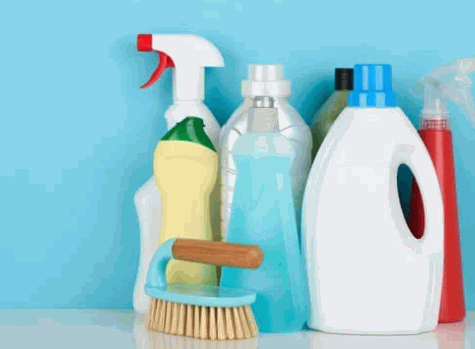 What Chemical Cleaners Work Best With Specific Stains?
In addition to considering the driveway surface and material you clean, you need to consider the stain you wish to remove when selecting the most suitable cleaner.
When you want to remove dirt, grime, grease and oil stains, a concrete degreaser is highly effective and should remove these stains with minimal effort.
If you are dealing with rust stains, lime stains, salt deposits or efflorescence on your driveway, use a cleaner that is developed with non-corrosive or biodegradable acid.
When removing sealers, paint, topical contaminants or epoxy, you should remove a stripping chemical or a coating remover.
To remove moss spores, organic growth, mould and algae, sodium hypochlorite (or liquid bleach) is a highly effective way to have the best driveway in your local area. You can also check out our guide on how to stop moss growing between block paving.
Where Can You Buy Chemical Cleaning Products For Driveways?
You can purchase abrasive cleaners and professional cleaning products online or from major hardware stores.
Do You Need A Pre-Treatment Before Using Chemicals On Your Driveway?
While a pre-treatment isn't necessary, it can enhance the finish, especially when using a power washer or pressure washing. It also helps remove moss, mould, algae and weeds from substances like tarmac or concrete.
Safety Tips For Using Driveway Chemical Cleaners On Natural Stone
Here are some tips our team of experts adhere to when using cleaning products:
Read the label
Use protective gear
Keep the cleaner out of reach of children and pets
Store your cleaner in a cool, dry place
Dispose of the cleaning products properly
Keep a first-aid kit handy
What Are The Benefits Of Using Chemicals As A Driveway Cleaner?
There are several benefits to using chemicals to clean driveways and external surfaces:
Effectiveness
Chemical products effectively remove various stains, such as oil, grease, paint, and dirt, which can be difficult to remove using other methods.
Chemical cleaning products, including sodium hypochlorite, are effective at halting green growth like lichen, algae, moss or mould, even on or around imprinted concrete.
In many cases, these solutions are better than a pressure washer for removing engine oil, regardless of surface type. Check out our article on how to remove driveway oil stains.
Convenience
Compared to manual scrubbing or pressure washing, commercial cleaning products are easy to use and can save time and effort. You can also use them on various surfaces, including concrete, asphalt, and pavers.
Ease of use
Chemical cleaning products typically come in a ready-to-use form and don't require special equipment or training.
Speed
Chemical cleaning items can quickly break down and remove stains, making cleaning more efficient.
Versatility
Various chemical cleaning products are available, each designed to remove specific types of stains and contaminants. This makes it easy to find a cleaner suitable for your driveway's particular needs.
What Are The Drawbacks Of Using Chemicals As A Driveway Or Patio Cleaner?
There are several potential drawbacks to using chemicals to clean a driveway:
Toxicity
Many chemicals contain harsh chemicals that can harm people and pets if inhaled or ingested or if they come into contact with the skin or eyes.
Always follow the manufacturer's instructions and use protective gear when handling commercial chemical cleaning solutions, such as gloves and goggles.
Environmental Impact
Chemical cleaning products can have negative ecological consequences, as they can pollute water sources if disposed of incorrectly. They may also contribute to air pollution if used in enclosed spaces.
If your driveway connects with your garden, you need to be careful about runoff from the driveway surface. If you have pets or children playing, having the best driveway isn't a great goal if the cleaning products impact on their ability to play safely.
Damage To Surfaces
Some products can be abrasive or acidic, which can cause damage to certain types of paving slabs, imprinted concrete, painted surfaces or softer materials like brick, tarmac or natural stone.
Choosing A Cleaner Suitable For The Surface You Are Cleaning Is Essential.
You also need to consider if solutions like sodium hypochlorite or benzalkonium chloride harm grass or negatively impact organic material.
The Right Cleaning Products Make Life Easier In Getting Rid Of Dirt
Driveway chemical cleaners are highly effective, and can reduce the time spent cleaning a driveway without compromising on quality. Of course, there are risks associated with chemical driveway cleaning products, but with proper care and attention, your driveway surface can look as good as new with professional cleaning products.