Finally removed that old render and now you want to restore the bricks underneath? Many people do when their render looks tired or cracked. But then they're left with another problem:
How do I clean up the ugly brick?
It can be pretty heartbreaking following a render removal to discover that the last owners probably covered up those bricks for a reason, right? But that doesn't mean the bricks underneath can't be saved.
Old mortar, dodgy brick working, dirt, leftover render, and more dust than you ever thought possible can all be fixed. Whilst we here at RenWash can't offer repointing, sandblasting, or restoration help, we are a professional team that are experts at cleaning exposed brick to show off the masonry at its best.
Below, we'll talk you through a couple of options. A) The hard option: cleaning up the brick yourself after the render removal. B) The easy option: letting us take care of it for you.
Cleaning Exposed Brick Yourself
We warned you, but if you're interested in the hard option, who are we to stop you? Whether it's your interior brick or exterior brick that needs cleaning up, we have a method for you.
Here's all the details you need: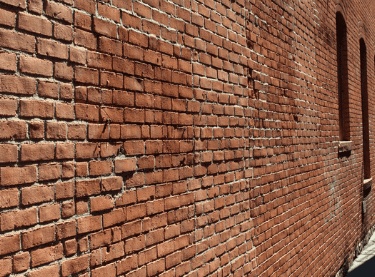 Tools And Products For The Job - (For Both Exterior And Interior Brick Methods)
liquid dish soap
salt
warm water
sponge
wire brush
plastic sheeting/tarp
brick acid (if necessary)
pressure washer (if necessary)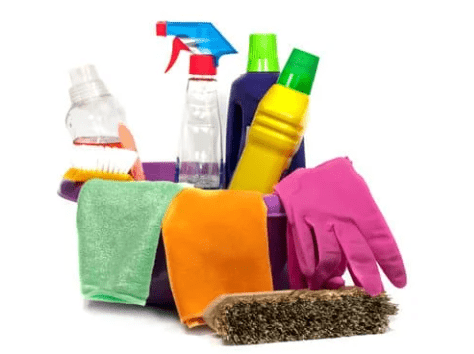 1. Preparing The Brick
The first thing you need to do before cleaning is make sure ALL the rendering is gone. If you have to remove the render yourself now, you'll need a hammer, chisel, and a steady hand.
We're not render removal experts, but we know being careful is essential. You should be aware of any risks to your property, cavity, the brickwork pointing, and structure if you have any render left to remove yourself.
Personally, we think you should call in the experts here. But if you know what you're doing, just be careful.
If the render removal has already been carried out, you might just need to finish small areas of the process where cement and render have stuck to your walls. Once you've used your chisel to remove any last stubborn bits of lime plaster, excess mortar, pebble dash, or render, you can start your brick cleaning project.
2. Creating A Paste Cleaner For The Brickwork
Bricks are porous and are far more delicate than people realise. That's why when cleaning them up after render removal, you should be very gentle with the exposed brick you're trying to restore.
It's best if non-professionals stick to household products to clean up the exposed brick at first. These usually work just fine, but if they don't, we'll talk you through a harsher method later.
What's the best mix for cleaning bricks?
equal parts liquid dish soap, warm water, and salt
Mix these together to form a light paste. This will be just abrasive enough to remove dirt, dust, and stubborn stains.
3. Applying The Mix
Apply the paste to the wall using a clean sponge or cloth. Make sure you've placed down a plastic cover, so the ground doesn't get messy as you work. Allow the paste to sit for 10 minutes. The application allows the salt to rub away any dirt or debris. The wait time allows the soap to break down grease.
Before attempting to apply the paste, make sure you've created a LARGE volume to cover the wall.
Side note: This method is great for interior bricks, but it works for exterior bricks, too. Just pick a dry day to apply your paste or else you'll cry...
4. Washing Away
If you didn't pick a dry day to clean up your masonry on the outside of the house, this next part will already be taken care of for you... prematurely...
If you've been wise and listened to our advice, you'll now need to clean away the paste.
Take a clean sponge and water, and wash the wall down so the surface is no longer covered in the paste. You'll need to leave to dry completely now (no moisture at all) to see the finished result.
If you're happy with your work, you'll need to look into an appropriate method of sealing the brick. An exterior sealant with a matte finish is great for exterior bricks because it helps houses deal with damp issues that may occur after replacing a rendered surface.
5. Brick Acid (If Necessary)
If you aren't happy with the clean just yet, do not seal your masonry. The job still isn't finished.
Brick and mortar acid is used to penetrate bricks with stubborn messes and stains. This will help remove cement residue, dust, and any render that's been left behind.
Find an appropriate product and apply to the surface of the brick according to the instructions. Each product is different, so you'll need to read yours carefully to ensure you use it right. This should leave your brick wall looking its best. Check out our article about cleaning render with bleach.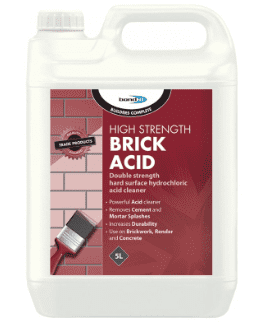 6. Pressure Washer (If Necessary - EXTERIOR BRICK ONLY)
Pressure washing your bricks after render removal is the BEST WAY to get your brickwork clean. But it's also the MOST RISKY for a non-professional.
If you insist upon trying it yourself, you'll need to be extremely cautious. Use the lowest pressure setting available and only increase the pressure by a small amount each time if you're struggling with the removal of render from a previously rendered wall.
You won't ever need to pressure wash interior walls. A) because it would make one heck of a mess. And B) because plaster is much easier to remove than render.
Pressure washing will be necessary in most cases, but we DO NOT recommend doing it yourself. Especially since we have alternative methods that are even better!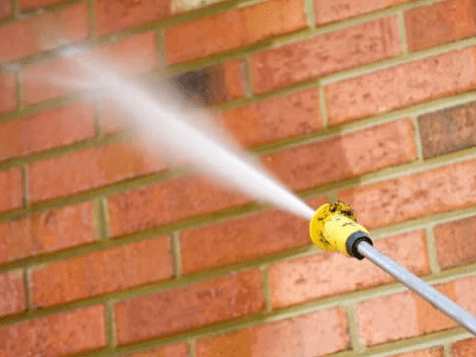 A Note On Lime Mortar
If lime mortar render has been used, make sure you hire a professional team to handle the brickwork cleanup. Lime mortar can be up to an inch thick, and it can be as complicated to remove from the wall as some pebble dash renders.
When residue and mortar is left behind after rendering, a brick wall restoration is made even more difficult. With our range of cleaning methods, though, we'll be able to clean up those exposed walls and get your property looking its best.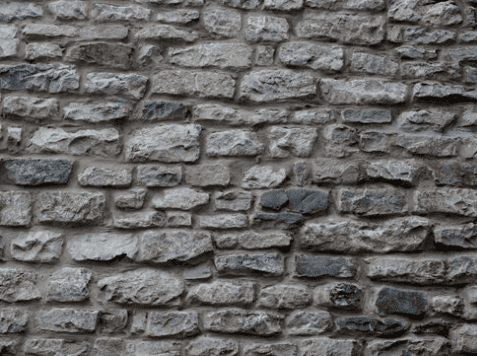 Problems With Doing It Yourself
Need convincing that working with RenWash is the best option? Then here are some classic DIY issues we hear about all the time...
Brick Damage
The biggest one by far is brick and mortar damage. When DIY enthusiasts take a pressure washer to the outside of their house or property, they go in too hard, messing with the pointing of the brickwork and structural integrity of the exposed walls in the process.
It's understandable when this is a passion project not their job. But it breaks our heart when they have to pay for repair work and repointing. And a repair of this magnitude is never cheap.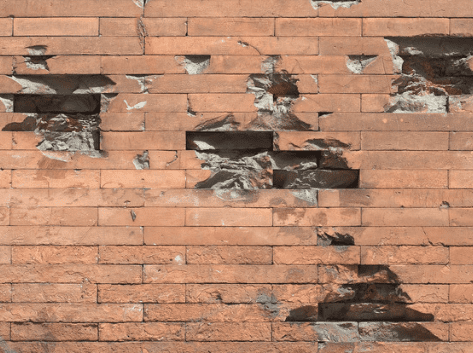 Takes A Great Deal Of Time And Effort
Even if you're great at pressure washing and extremely cautious, you might not have time to work on your house and project. It's a HUGE task.
One that's best left to the pros.
Results Aren't Guaranteed
You don't know how good it's going to look when you finish the project. This is your house and you want it to look its best. If the wall looks unfinished and unclean, you'll be kicking yourself for the rest of time.
Working With RenWash
By selecting one of our cleaning services to help clean bricks after render removal from your house, we can guarantee results. FAST. You can check out our post on the best way to clean rendered outside walls.
Our Cleaning Options
We offer a range of options:
jet washing (handled by a pro)
soft washing (best for organic matter problems)
DOFF steam cleaning (high heat and steam that removes almost anything)
TORC cleaning (aggregate substrate used to blast the wall clean carefully - not dissimilar to sandblasting but a LOT safer for your house)
Call us today and we'll talk you through the best option for you.
Please note: a site visit may be necessary to determine the best course of action.
It's Your Call - Make Sure You Make The Right One
You'll find many similar threads and posts discussing this topic - but we're not here to push you in either direction.
If you have the expertise and patience to clean up those bricks yourself, go ahead.
But we're experts here at RenWash with a range of cleaning options to transform your house and exposed brick after render removal.
All we ask is that whichever choice you make, make sure it's the right one.